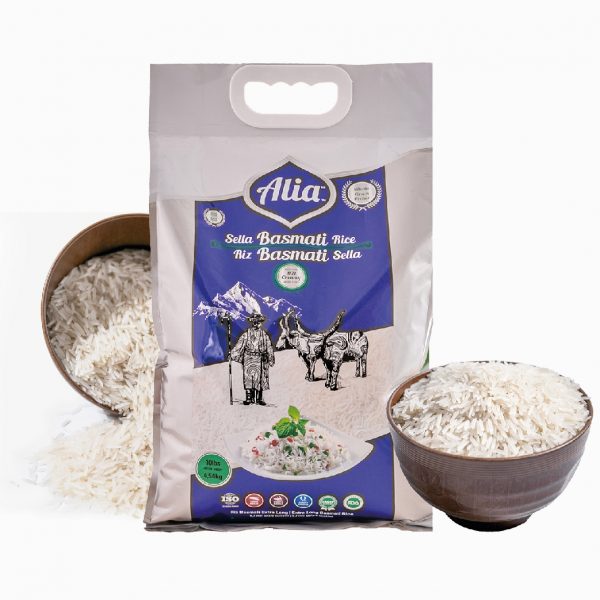 1121 ARROZ BASMATI CREMOSO PARBOILADO (SELLA)
Ampliamente utilizado para preparar una variedad de cocinas que incluyen biryani, arroz frito, arroz jeera y arroz con limón, el arroz cremoso Sella Basmati 1121 tiene una gran demanda en varios hoteles, restaurantes y hogares. Nuestro stock completo está garantizado para ser cultivado con abonos naturales y orgánicos. Comprobado en varios parámetros de calidad, el sabor distintivo y el aroma tentador lo convierten en una opción preferida entre los clientes. Además, se ofrece en envases a prueba de humedad para garantizar su frescura durante mucho tiempo.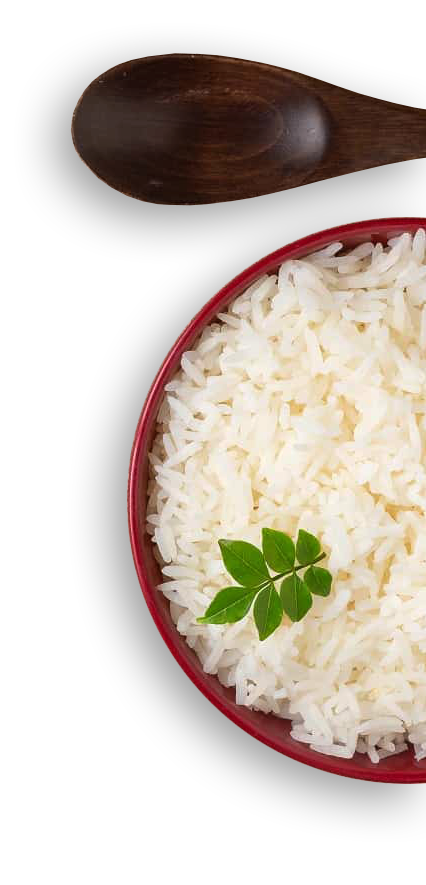 ARROZ JAZMIN
Alia® es una de las marcas más confiables de arroz jazmín que se ajusta al presupuesto y sabe bien. ¡Es originario de Vietnam del Sur o Tailandia! ¡Tan pronto como abres el sobre, hueles el hermoso aroma del jazmín!
Nuestro arroz se cuece en un plato menos pegajoso o firme según la escala de agua que agregue. ¡Con esta versatilidad, puede combinarlo fácilmente con pollo, pescado o cualquier otra proteína deliciosa que se le ocurra! ¡No te apresures y consume mucho!
Para lograr una textura pegajosa, el envase sugiere una proporción de arroz / agua de 1: 1,5. Sin embargo, si desea una textura más firme, debe usar un poco menos de agua de lo habitual.
Nuestras bolsas de 1 kg son fáciles de volver a sellar, para evitar que el arroz se eche a perder, para el tamaño más grande, puede ponerlo en bolsas más pequeñas o en recipientes de plástico para mantenerlo fresco.
El Arroz Jazmín Alia® es una comida maravillosa para disfrutar no solo por su sabor, sino también por su aroma.
¡Es mejor que te des prisa antes de que te arrepientas de no tenerlo en tu cocina!
Con un alto contenido de fibra y metales bajos en toxicidad, esta bolsa de arroz le brinda una comida saludable en cualquier momento del día.
1121 ARROZ BASMATI SECADO ORO (SELLA)
Caracterizado por granos largos y un aroma único, el arroz 1121 Golden Sella Basmati es famoso en todo el mundo. Estos granos de arroz son altamente resistentes a las enfermedades víricas, básicas y bacterianas. Los granos son suaves y se expanden a lo largo cuando se cocinan. Estos se empaquetan cuidadosamente en materiales resistentes a la humedad y de grado alimenticio para un tránsito seguro y una larga vida útil.
NUTRITION PROFILE
According to the USDA FoodData Central, brown rice is a rich source of essential minerals such as iron, zinc, manganese, calcium, selenium, magnesium, phosphorus, and potassium. It also contains important vitamins like B-vitamins – vitamin B1 (thiamine), B2 (riboflavin), B3 (niacin), B6, folate – vitamin E, and vitamin K. The nutrient profile of white rice is more or less
the same, albeit with a few differences. Both are healthy sources of carbohydrates, protein, and essential fatty acids. While they both have fiber, brown rice is more fibrous than white rice, which automatically makes it the healthier cereal out of the two. White rice has more carbs and calories than brown rice, which is why the latter is preferred in a weight-loss diet over
the former.
Dietary Fiber
Generally, brown rice contains 1-3 grams more fiber than its white counterpart. According to research published in the Metabolism Journal, a high-fiber diet not only relieves constipation but also keeps you feeling full for a long time, manages the body weight, controls blood sugar levels, maintains a healthy gut, and lessens the risk of cardiovascular diseases.
Glycemic Index (GI)
Brown and white rice, both, have a high glycemic index (GI) score when compared to other cereals like sorghum, the different varieties of millets, barley, and the like. The GI determines the impact your food has on your blood sugar levels. You can ascertain it based on the pace or intensity with which it can raise your blood sugar levels. If you have to compare the two, white rice definitely has a higher GI of the two and instantly gets absorbed in the bloodstream. According to a report by Harvard Medical School, white rice has a high GI of 72 as compared to brown rice that has a moderate GI of 50.
Magnesium
Brown rice contains more magnesium than white rice. A 100 gram serving of brown rice contains 39 mg of magnesium compared to 12 mg of the same in an equivalent portion of white rice. According to the National Institute of Health, nearly 11 percent of your daily prescribed amount of magnesium is obtained out of half a cup of cooked brown rice. A diet rich in magnesium helps in maintaining good bone health, controlling blood sugar levels, boosting immunity, regulating the blood pressure, and improving muscle and nerve
functions among other things.
Folate
This is one nutrient that is more in white rice than its brown equivalent. A 100 gram serving of white rice contains 58 micrograms of folate whereas the same amount of brown rice contains 9 micrograms of the same. This essential nutrient is very important when it comes to producing DNA and other genetic components. Additionally, it is extremely important for pregnant women or those who plan to get pregnant in the near future. It also helps in the cell
division process.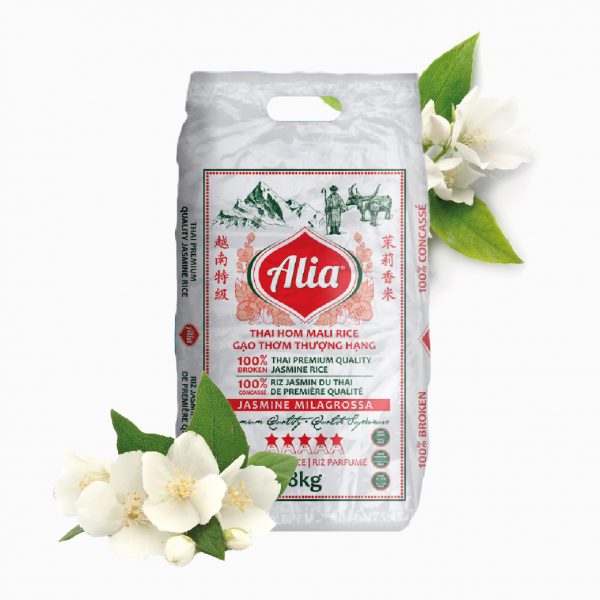 THAI JASMINE RICE
Alia® is one of the most reliable brands budget and taste. It is originally come from South Vietnam or from Thailand! As soon as you open the packet, you whiff in the beautiful aroma of jasmine! Our rice cooks into a less sticky or firm dish depending on the scale of water you add. Having that versatility, you can easily pair it up with hicken, fish, or any other delicious protein you think of! Just don't get all hasty and consume a whole lot of it! To get a sticky texture, the packaging suggests a 1:1.5 rice to water ratio. However, if you want a firmer texture, you need to use a little less water than usual.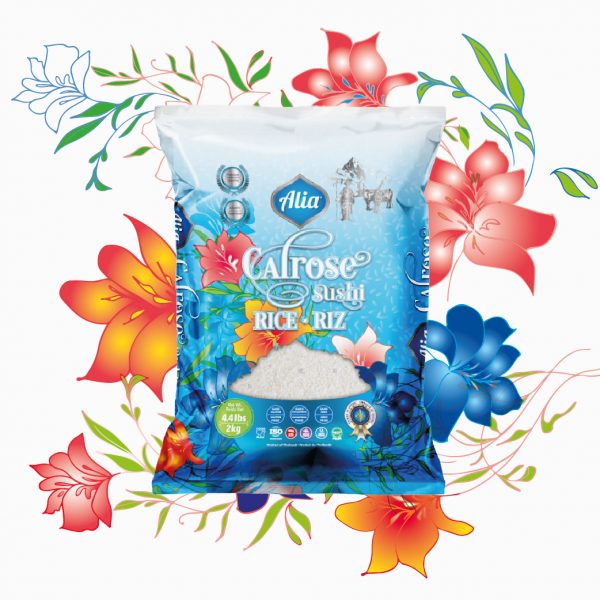 CALROSE
ROUND RICE | JAPONICA RICE
Round rice is fast-cooking, soft and very sticky. During cooking this rice partly emits starch and absorbs more water than usual. This kind of rice is suitable for cooking both sweet and spicy dishes. It is a good choice for preparing rice porridge or pudding.